When we receive a wedding invitation we are grateful of course that the couple wants to include us in their special day.  But then the next thought is "What am I going to wear?"  The practical side says that you should wear something in your closet.  However, the other side of you looks at it as a good excuse to buy something new.
This year May and June have a total of seven weddings to attend between the two of them.  June has five weddings.  Because most of them are family weddings it means that she will be seeing the same people at almost all of the events.  A new dress for each wedding is not in the budget but who wants people to start thinking "Oh look there she is in the same dress again."
So we thought it would be fun to try and use the same dress and create different looks.  We took a shopping trip to Nordstrom and purchased a few new accessories.  We picked accessories that could be used also with work or casual wear.  For other pieces we pulled items out of our combined closets.
We started with a simple black maxi dress.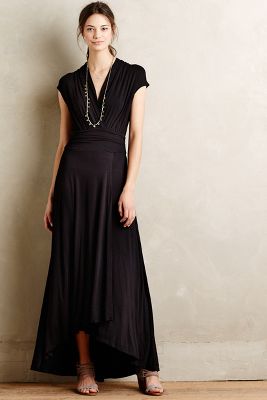 This one is new from Anthropologie although I did have one in my closet that could have been used (except I wore it to several weddings last year).  Everyone has a black dress in their closet and it is a nice starting point because the dress in and of itself is not overly memorable.
Then we decided to create two looks, one for a dressy (but not formal) wedding and the second for a more casual backyard wedding.
For the dressy wedding we added a gold statement long necklace, a gold bangle and gold hoop earrings along with a silky lightweight printed shawl for a pop of color.  We also added a dressy black sandal with a bit of embellishment (similar).  Finally, we finished off the look with a vintage black and gold clutch from May's collection.
The second is for a more casual wedding such as a farm wedding or backyard event.
We started with the same dress.  Then we added a black wedge sandal with a cork heel.  We then added a long turquoise bead necklace with a druzy at the end and used the same gold hoop earrings.  We then added a black and white striped cloth clutch with a wood frame and topped it off with an airy open cardigan that pulls in the turquoise and black colors of the other pieces.
And Voila!  Two different wedding looks using the same basic black dress.
Happy Wedding Season!  -May and June